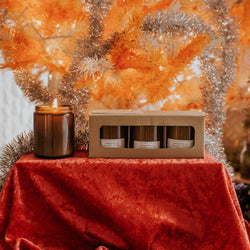 Nightshift Wax Co.
Holiday Mini 3 Pack Holiday Gift-Set
Whether you're already a fan of our Amber Apothecary Line or you're looking to find that perfect holiday gift, these gift sets are perfect for you! Each of these perfect holiday bundles includes (3) best-selling fragrances off our holiday seasonal scents or our all-year favorites you can choose from, in our best-selling 4 oz Amber Apothecary size. 
Boxed in our recycled kraft gift boxes ready to wrap and gift this holiday season!
Included in The Forest Lovers Gift Set:
Pine & Mistletoe:
Eucalyptus, Camphor, Red Currant, Pine, Fir, Clove & Cedar.
Blue Spruce & Cedar:
White Birch, Pine, Balsam Fir, Cedarwood & Mint.
Campfire:
Ash, Cedar, Tobacco Leaf, Saffron, Sandalwood & Patchouli.
Included in Sweet & Spiced Lovers Gift Set:
Chai Latte:
 Black Tea, Cinnamon, Rooibos Tea, Cardamom & Chai.
The Bakery: Freshly baked bread, Vanilla, Sourdough & Flour.
Autumn Wassail:
Maple, Cinnamon, Anise, Cardamon, Ginger & Spiced Apples.
Included in The Nightshift Best Sellers Gift Set:
Black Amber & Lavender:  Tonka Bean, Amber, Black Myrrh, Musk & Clary Sage.
Night Drive:  Lilac, Lily of the valley, wet pavement, myrhh & violet
Oakmoss & Amber:  Musk, cedar, orange zest, rose, sandalwood & blonde woods
Burn Times:
4oz burn time: 35-40 hours
Gift Set Total Burn Time: 105-110 hours

Our candles are made with organic USA-grown soy wax and premium-grade organic fragrance oils.
All candles are carefully hand-poured, custom blended, and use non-lead and non-dyed natural braided cotton wicks. Candles are packaged in amber or clear glass reusable jars with gold metal lids.

100% Paraffin and Toxin + Cruelty - Free.

Before we ship out any candle - each candle is carefully inspected, hand-labeled, and packaged to our clean and professional standards by our team. Each small batch of candles also gets burn tested to ensure that batch is burning evenly, clean, and with a wonderful fragrance, throw while lit. We make sure the product you'll be receiving from us is nothing but the best!
______________
5 WAYS TO TAKE CARE OF YOUR CANDLES
Candle Care
1. Trim That Wick:
Before lighting, trim the wick to 1/4" using scissors or one of our wick trimmers for a clean, safe burn and increased candle lifespan.
2. Let It Burn:
Allow the wax to melt to the edges of the jar every burn to prevent tunneling - especially important on the first burn!
3. Safety First:
Never leave a lit candle unattended, and don't burn for more than 4 hours at a time. To protect the surface below from heat, place your candle on a coaster or tile.
4. Know When to Stop:
Don't burn your candle if only 1/4"-1/2" of wax remains. Lighting a candle without enough wax can overheat the jar.
5. Reuse It:
Once the candle is finished, clean out the jar! Now you've got a new planter or pencil holder or whatever you'd like. More tips on how to reuse here.