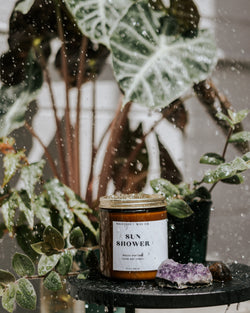 Nightshift Wax Co.
Sun Showers Soy Candle
A summer aroma opens with the luxurious fragrances of cherry blossom, moonflower, sea salt, amber, red rose, ocean moss, and lilac flowers. While the rich aroma of musk and vetiver round this sunny scent out.
Top: Cherry blossom, marine, vetiver & oud
Middle: Amber, lily of the valley, moonflower & lilac
Base: Ocean moss, sandalwood & rose

Size | Burn Time: 
9oz burn time: 72-80 hours

*Please note candle of the month scents are only available in 9 oz size due to their limited edition status.*
Made in sunny St. Pete, Florida with 100% soy wax for an eco-friendly clean burn. We use lead-free cotton wicks and premium fragrance oils infused with essential oils. Our candles are vegan, cruelty-free, phthalate-free, and petroleum-free.
For tips on repurposing your candle jar head over HERE.