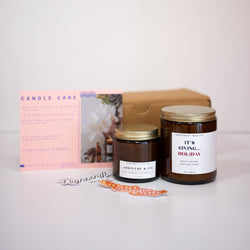 Nightshift Wax Co.
Deluxe Candle of the Month Subscription
JULY SCENT - 
A summer aroma opens with the luxurious fragrances of cherry blossom, moonflower, sea salt, amber, red rose, ocean moss, and lilac flowers. While the rich aroma of musk and vetiver round this sunny scent out. 

Top: Cherry blossom, marine, vetiver & oud
Middle: Amber, lily of the valley, moonflower & lilac
Base: Ocean moss, sandalwood & rose
Every month, you will receive a limited-run seasonal 9 oz soy candle of the month fragrance and a 4 oz candle of your choice flame fragrance. The subscription will cycle through an assortment of scents based on the season. To access your Subscription Dashboard, login or create an account with the same email you placed your subscription order with.
Your subscription will automatically renew every 1, 2, or 3 months depending on the delivery frequency you selected. You may cancel anytime. 
Shipping is not included in the price. Discounts do not apply. Gift cards are not accepted for subscription boxes.